EDIT MAIN
Pat Willoughby | 4th Quarter PE Grades PreK - 3rd
EXPERTS say, 30-60min of EXERCISE every day HELPS BOOST our immune system!
St Charles Positive Addiction training was to start Tuesday, March 17 in PE classes. I am in hopes that all of you will EXERCISE every day and maybe twice a day in an effort to get/stay fit! Everyone can walk; if you have a bike and weather permits, start riding it! If you are one that struggles to exercise remember, it's always more fun to exercise with someone! Just STAY 6' away from them! Be Safe, Stay Healthy and Smile cause you love it!
Remember to start your Activity with Our Class Prayer, Thank you God that I have another day to exercise, to use the body you have given me. Amen.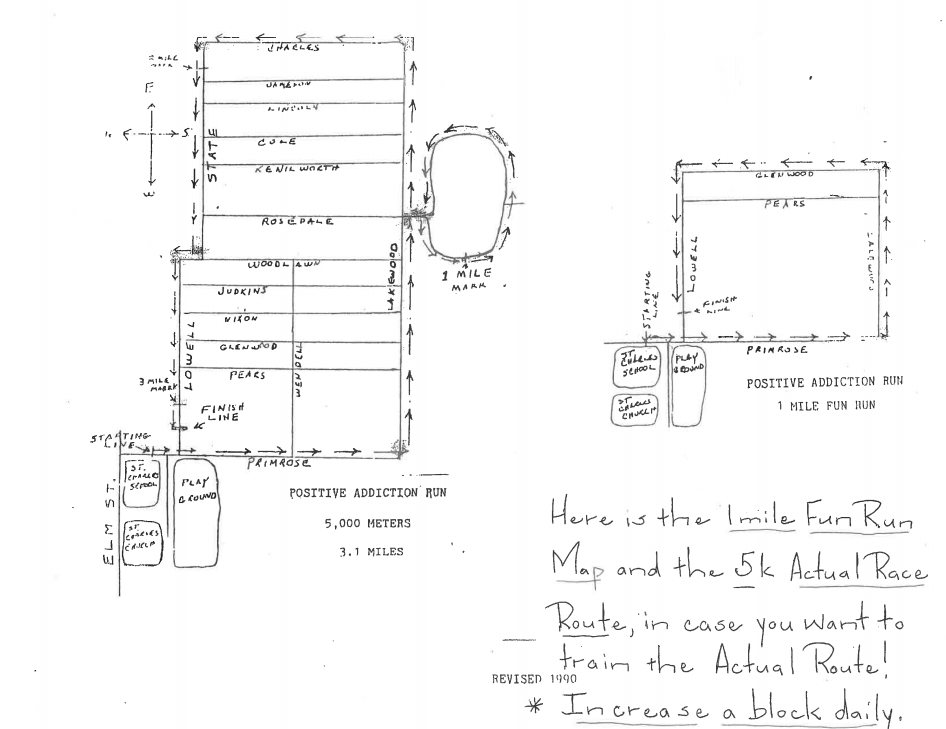 A DAILY ROUTINE - Crunches - 4x25 Push-ups - 10, (if still too difficult to do correctly on the floor, remember could do these on your dresser, kitchen countertop, island, or lay down, push yourself up, till you get stronger) Planks - 1min + 2min Take your dog or yourself a walk, morning + night.
*WHATEVER EXERCISE YOU CHOOSE - Keep a daily log of the exercise + # of minutes. It could state, play outside - 30min. The main thing is to stay active! GRADES PK-3 only has PE 45min. per week, but I would love them to exercise daily! TO MAKE THIS EASY, instead of logging minutes, some families state their name, say my kids exercise every day! They list the exercises or activities chosen and send me some pics of them being active! I am trying to make this SIMPLE and STRESS-FREE for each family!!!
GRADES 4-2 and 6th have PE EVERY DAY for 45min, so they NEED to BE ACTIVE for 35min EVERY DAY!
*I have REALLY ENJOYED the PICTURES some of you have sent me! It gives us the connection that we are MISSING! Keep them coming! I LOVE to see how you are being ACTIVE and STAYING FIT!
ADDITIONAL IDEAS - Hula Hoop, Jump Rope, Ride a bike, Rollerblade/skate, Trampoline - Jump with supervision and weather permitting, Jog on a Rebounder/Mini Tramp, Walk or Jog on a Treadmill - if your 1st time with supervision, Turn on the TV/UTube - take an Exercise class, Play Wii - if available to you, Shoot some Hoops, Dribble a Basketball or Soccer ball, Yardwork, FAMILY PLAY- Hula Hoop CONTEST, Tag- (Runners go, Redwings go) Hide + Seek, Kickball, Tennis, Pickleball, Badminton, Softball, Volleyball, Hockey, Walk or Jog the neighborhood, Park or Reservoir, Play- I Spy or Follow the Leader, Decorating your front Door or Window, along with Chalk Art has become quite popular - walk or jog a neighborhood looking for it then discuss the message being conveyed with your family or friend! Biking, Bowling outside or inside (use 2-liter bottles for pins or regular water bottles) Scavenger Hunt-outside or inside your house, neighborhood or park, Have an EASTER Egg Hunt come April. I noticed the GOLF Course is open + I know you want to drive the Cart but you will get more exercise walking the course and carrying your clubs! Another GREAT exercise for your upper body is RAKING, those leaves we missed in the Fall. (Sorry, I know this one is not fun) Weight lifting for Jr. High, Turn on your favorite music and have a Dance Party! Whatever EXERCISE you pick, REMEMBER to log your minutes!
FUN RUN TRAINING for GRADES 1, 2, 3 + 4 - Everyone has learned to jog heel-toe and for the Fun Run, you need to remember this is a FUN JOG, NOT a RACE! You are Training to make it through the specified amount of time, without having to walk! There is NO 1st, 2nd or 3rd place! You are ALL WINNERS if you don't have to stop and walk! Depending on your endurance level is how you will proceed with Training! Make sure your shoes are double-tied and begin walking. After 1 or 2 minutes of walking, check your start time and begin jogging a nice, slow, heel-toe even pace! Remember you are jogging for endurance, so go at a pace you can make-it without huffing and puffing! When you have to walk, check the time and see how many minutes you've jogged! Your Goal the next time, will be to jog even longer! Keep a log so you know how many minutes you jogged each day. Some of you that are very active and can pace yourself will be able to jog forever! 25-30 min has been are max in previous Fun Runs, depending on the lowest number of minutes accomplished per class! Some students will jog 2min. and need to walk, that is ok! The next time go slower and try to jog a little longer! If it is hard for you, maybe train twice a day till you get your breathing slowed down and can increase your time! REMEMBER to log your minutes! LOOKING into having a VIRTUAL FUN JOG! Stay connected for updates!
POSITIVE ADDICTION 5K TRAINING for Grades 6, 7 + 8. DOUBLE TIE your shoes; if you choose, not to STRETCH, begin by WALKING a few minutes! If you feel you need music to train, use ONLY 1 ear pod for SAFETY reasons! ALWAYS walk + jog FACING the TRAFFIC! If you do some training riding a BIKE, then ride WITH the TRAFFIC! Map out a HALF MILE in a SAFE area, maybe your neighborhood? Wherever you train, ALWAYS BEWARE of your surroundings! Start out a SLOW, HEEL-TOE even PACE, jog for 1/2 mile and then jog back! Remember to, go at a pace that you can get back to your starting point! If you did that without having to walk, INCREASE your JOG EVERY DAY a BLOCK FARTHER! If you struggled, go slower and stick with the 1mile another day! The 1st mile is the hardest, once you get your breathing down it will be a piece of cake! MOST of you participated in the Fun Run when you were in the lower grades and realized, if you go a nice, slow, even pace you will not have any trouble! HAPPY TRAINING! You are going to LOVE IT! It is ALWAYS more FUN to train with someone, go at a pace you can carry on a conversation, without getting winded! REMEMBER to log your minutes or mileage!! LOOKING into having a VIRTUAL 5k RACE! STAY connected for upcoming news!
PK + K - Practice your Locomotor Skills - Walk, Jog, Easy Run, Sprint, Jump, Hop, Skip, Gallop + Leap Dribble a Basketball in place + moving KICK a ball PLAY outside GoNoodle RIDE a bike Ride a scooter. STAY ACTIVE and LET ME KNOW HOW YOU ARE KEEPING FIT?
EVERY AGE GROUP - PK-8 LEARN + PRACTICE - HOW to TIE your shoes correctly!
I am SO THANKFUL, that WE CAN still GET OUTSIDE! BE SAFE, STAY HEALTHY and HOPE to SEE YOU EXERCISING!