EDIT MAIN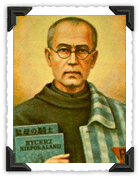 Feast Day: August 14
Born: 1894 :: Died: 1941
Raymond Kolbe was born in Poland. When he was just a teenager, he joined the Franciscan order and took the name Maximilian. Maximilian loved his work and enjoyed studying to become a priest, and he especially loved the Blessed Mother.
Before he became a priest, he started the Militia of Mary Immaculate or the Immaculata Movement devoted to Our Lady.
Then when he took his vows to become a priest he added "Mary" to his name. Father Maximilian Mary knew that the world which was so full of sin, needed their Heavenly Mother to guide and protect them.
He started a magazine called "The Knight of the Immaculata" so that more people would know about Mother Mary. He and his Franciscan priests published two monthly newsletters that were sent to people around the world.
The Mother of God blessed Father Maximilian's work. He built a large center in Poland. This center was called "City of the Immaculate."
In about fifteen years, a large community of eight hundred Franciscans lived there and worked hard to make the love of Mary known. Father Kolbe also started another City of the Immaculate in Nagasaki, Japan and yet another one in India.
In 1938, the Nazis invaded the Polish City of the Immaculate. They stopped the wonderful work going on there. In 1941, the Nazis arrested Father Kolbe. They sentenced him to hard manual labor at Auschwitz.
Three months after he arrived at Auschwitz a prisoner managed to escape. The Nazis became very angry and decided to punish the rest of the prisoners.
They decided to choose ten prisoners and put them in a bunker without food or water so that they would starve to death. All the prisoners stood straight, while ten men were pulled out of line.
One prisoner they chose was a married man with a family. He begged and pleaded to be spared for the sake of his children. Father Kolbe, who was listening, felt deeply moved and decided to help that suffering prisoner. He stepped forward and asked the commander if he could take the man's place. The commander agreed.
Father Kolbe and the other prisoners were sent into the bunker and they remained alive without food or water for many days. One by one, as they died, Father Kolbe helped and comforted them. He was the last to die on August 14, 1941.