EDIT MAIN
Mrs. Meredith's First Grade News
March 30 - April 3
Important Information:
******Mrs. Scheid has added a COVID-19 - Parent Resource folder on our St. Charles website. These are mostly the same resources I've put on my extra resources tab. Please don't hesitate to use these, as they are great resources for parents and students. She continues to update it with relevant resources, so you don't have to spend time searching.
**ConnectEd is the name of our online Wonders reading program, sorry for the confusion. (:
**Please don't hesitate to email me with any questions you may have about your child's work.
This Week: Unit 5 Week 5 Packet - 3
Math: Two digit story problems
Phonics: This week's focus is on words with diphthongs oi, oy Please follow suggested lessons in packet.
Reading: Our High Frequency words are: above, build, fall, knew, money, toward. Vocabulary words project, structure. Please continue either reading to your child or having your child read to you for at least 20-30 minutes each day. This can be broken up throughout the day, it doesn't have to be in one sitting.
****infohio.org is a great resource for online books. Click on bookflix
****I added a new folder to my website called Vook Video Books - I downloaded a variety of books I thought
the kids would be interested in.
See cover sheet of learning packet for suggested learning activities in edition to daily assignments.
Religion: See learning packet.
Social Studies: See learning packet.
Letter to my students:
Dear First Grade Friends,
I hope you had a good week last week. I know you're working hard. I pray for you and your families everyday and look forward to when I can see you again. I still miss you very much!! If you haven't heard, we got a new puppy!!! His name is Lincoln and he is 14 weeks old. He is funny, fluffy and mischievous. Maybe some day you'll get to meet him. Don't forget your morning routine. Don't forget to get outside for fresh air and don't forget I love you!!!
Love,
Mrs. Meredith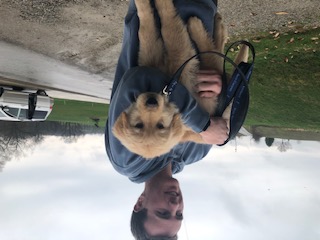 Daily Schedule
For those of us who need a schedule, Mrs. Daley shared this with us and I thought I'd pass it on!!
Before 9:00 AM
Wake up!
Make your bed, eat breakfast, brush teeth, get dressed
Three Minute Daily Retreat for Family
9:00-10:00
Outdoor Time
Family walk or outdoor play
10:00-11:00
Academic Time
11:00-12:00
Creative Time
Creative play, drawing, Legos, crafts, music, cooking, baking
12:00-12:30
LUNCH
12:30-1:00
Home Chores
Clean rooms, put away toys, take out garbage, pet care
1:00-2:30
Quiet Time
Reading, nap, puzzles, yoga
2:30-4:00
Academic Time
Electronics OK! Exact PathEducationall games, online activities, virtual museum tours
4:00-5:00
Outdoor time
Family walk or outdoor play
5:00-6:00
Dinner time
Family dinner, help with clean-up and dishes
6:00-7:00
Bath time
Bath or shower
7:00-8:00
Reading/TV time
Relaxing before bedtime
9:00 PM
Bedtime
Put on PJs, brush teeth, clothes in laundry